Describe a uniform you wear (at your school or company).
You should say:
When you wear it?
Who bought it for you?
What does it look like?
How do you feel about it?
Sample Answer
Going down memory lane, the only time I had worn a uniform for the most extended period was when I was a student. Back then, going to the school, each day, with the same uniform, didn't make it look voguish or in-trend.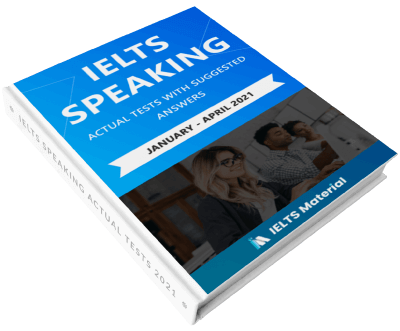 IELTS Speaking Actual Tests (January – April 2021) with Suggested Answers-Ebook
$18 $37
Written by professional IELTS teachers to help candidates on the big day

4.5 rating
While I wanted to get rid of it, I never assumed that I would miss it one day. I got admitted to one of the exceptionally well-off schools that had a higher stature in my hometown. One thing worth mentioning is that I never changed school.
So, from the prep section to the 12th standard, I was stuck to one. I vividly remember the one-piece dress, sky blue in colour, when I'd joined the school as a nursery student. This knee-length dress had white stripes and the school's patch on the left-side pocket.
My mother had purchased that dress for me. When I reached the 1st standard, it changed to a blue shirt with white stripes and a blue knee-length skirt. During summers, the colour changed to white for the shirt and grey for the skirt.
Afterwards, from 9th to 12th, I wore a dupatta suit, wherein the blue-coloured shirt was knee-length along with white salwar and dupatta. Now that I reminisce about my time spent in school, I long to have a few moments to be relived. But alas, we have come a long way. And there seems to be no going back.

Vocabulary
Voguish:fashionable
Eg: Her sense of style is extremely voguish.
Assumed: to consider something to be true without any proof
Eg:You would have assumed that I am not coming but I proved you wrong.
Terribly badly
Eg: After a trekking trip, her body is aching terribly.
Exceptionally: notably
Eg: My mother is an exceptionally good cook.
Stature: status gained by development, achievement or growth
Eg:Her stature has made her a respectable personality in the office.
Reminisce: to think of something from the past
Eg: A reunion helped us reminisce about all the moments we spent together in college.
Relieved: to live again
Eg:I would have relived special memories thousands of times.
Also check :
IELTS Speaking preparation tips
IELTS Cue cards
Linking words for IELTS Speaking
IELTS Speaking recent actual test
Sports Vocabulary IELTS
Work Vocabulary IELTS
Idioms for IELTS Speaking
IELTS Pronunciation Guide
Common English words in IELTS Speaking
Ough words
Read more: feedproxy.google.com
Original Source